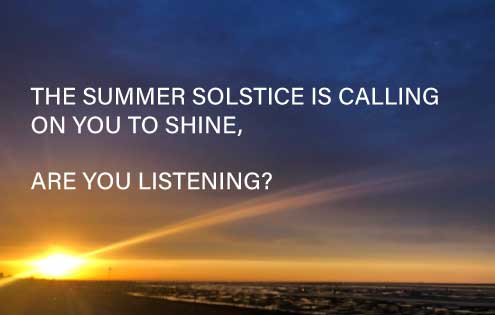 The Summer Solstice is calling on you to shine, are you listening?
As we celebrated the summer solstice last week, the doorway to the second phase of the year was opened – but just what does this opportunity mean for you and your wellbeing?
The summer solstice, also known as the longest day of the year, happens when the sun's light expands and peaks, offering us more fruitful hours of daytime. You might have noticed the sun's strength this week; felt more energised as you moved about your day, or felt called to take a pause and reflect (solstice literally means to stand still).
But far from being a time to simply enjoy more sunlit hours, the summer solstice is a poignant shift in the Earth's energy. With vibrational energy at its peak, how can we harness it?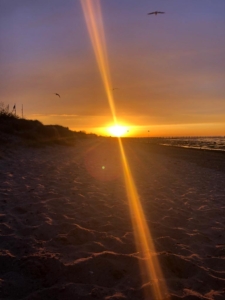 If you've been approaching burnout, or feeling like you need the reprieve of a pause, the solstice is perfectly timed. Consider this: the solstice occurs at the midpoint of the year, an ideal time to reflect on the path you've taken thus far. To work with the energies available at the solstice, you might journal or meditate on what has brought you real joy over the past six months and consider what also has felt heavy, difficult and might need letting go of.
While the sun's energy is strong at the solstice, the earth's energy isn't calling upon you to achieve more. In fact it's a reminder – something we might have touched upon in our treatments at The Hut – of the need for balance. Of light and dark, sunlight and shadow. As we start to ease slowly into the darker half of the year, it's a time to consider which seeds we'd like to water.
Welcoming back the darkness can be difficult for many of us. The sun is so glorious, we don't want to see it go! But by balancing our love of the lighter, warmer months with a reminder that the subsequent seasons offer a slower pace; a chance to move inward, to plan, to dream, we can remember that we're not designed to bloom all year round.
As the wheel of the year turned to the solstice this week, I set aside my own time to tune into its energy. For me, that meant spending time outside around treatments; soaking up the sun's energy, practising yoga and meditating. Taking time to reflect on my ride through 2022 so far, I mused over the highs and lows, what I felt grateful for and the shifts I need to make.
It was illuminating. I felt called to clean the house from top to bottom – a sure-fire sign I was needing to cleanse and make space for newness. And as I continue to reflect in quieter moments on what this means for me, I remind myself of how this journey is creating the inner balance for a healthier life.
Making space is another offering the summer solstice provides us with.  When we create a clearing, literally and figuratively, we're able to see things for what they are. After meditation you might feel less scattered and disconnected, while after reflexology you might feel more 'in your body' and intune with its needs.
How we go about navigating this abundant, energetic shift is deeply personal. For some, taking stock of our lives will allow us to remove obstacles that we might otherwise have missed. For others, it might mean creating important boundaries to protect our own energy. Or if we've been feeling stuck or approaching burnout, reflecting on what we truly desire.
The solstice is also an opportunity to celebrate our successes – something many of us don't give time to. Writing down our achievements, what we're grateful for and stepping back to admire the beauty of who we are helps us realise our own power. You might take this one step further and set intentions for the rest of the year to help stay on your path to living your truth.
However you chose to honour the solstice and the energies at play at is for you to explore. With the understanding that, in honouring this time in our lives and nature's journey, we are raising our vibration and able to make dreams reality. Here at The Hut, we're wishing you solstice blessings to help you on our journey to balance, rest and recharge.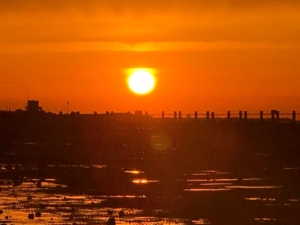 https://thebalancedhealthhut.co.uk/wp-content/uploads/2022/07/solsticeIntro.jpg
315
495
Siobhan Robertson
https://thebalancedhealthhut.co.uk/wp-content/uploads/2019/12/Balanced-Health-Hut-website.png
Siobhan Robertson
2022-07-11 09:42:34
2022-07-11 09:51:46
Solstice