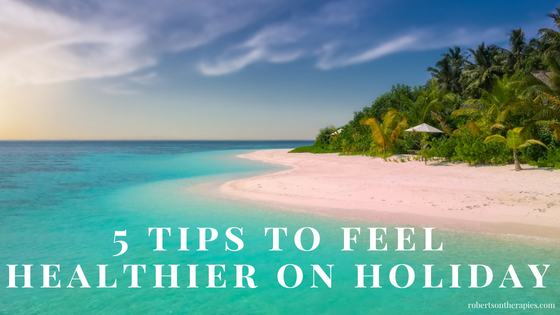 June generally marks the start of the holiday season in the UK with many of us travelling abroad to seek some early summer sun.
However, even the most healthy gut can suffer whilst we are away from home and many of us find symptoms such as bloating, diarrhoea and constipation have a negative effect on our fun in the sun. In this blog, I will share my top 5 tips to feel healthier on holiday.
But why does this happen?
Our digestive system shuts down at times of stress and although holiday should be relaxing, we all know this isn't always the case. Holidays generally mean slowing down – this includes our digestive system does too and therefore indulgent food choices, excess alcohol and a lack of exercise all make it harder for our gut to function as it should. Add to this exposure to new germs, different water and the everyday stress that often comes with preparing for a holiday, it is no wonder many of us suffer.
85% of our overall health starts in our tummies so what can we do to ensure that we remain healthy and enjoy the holiday season this year?
Keep hydrated – make sure that you are continuing to drink at least 2 litres of water a day
Plan in 'me' time – holidays are about family, but you also need some time for yourself – make sure you get this whilst on holiday
Sleep – it's so tempting to stay up later than usual on holiday, but getting enough sleep will help your body to replenish itself
Exercise – many of us completely abandon our usual exercise regime on holiday and our bodies don't know how to react to this. Plan in time each day for some gentle exercise such as swimming, walking or yoga.
Supplement – taking a good quality probiotic over the holiday period can help to balance the good bacteria in your gut as well as supporting your bodies natural immunity
What if I still feel unwell after my holiday?
If the above symptoms sound like your everyday norm then maybe your Digestive System is in need of a transformation. Systematic Kinesiology combines muscle testing and the principles of Traditional Chinese Medicine taking the guesswork out of why your Gut may be reacting. We work with your own bodies biochemical feedback exploring food Sensitivities, emotional, structural and chemical imbalances.
Want to know more about how this work, then take a look at our blog – 'How Good Is Your Digestive System?'
Get in touch if you would like to know more.
https://thebalancedhealthhut.co.uk/wp-content/uploads/2018/05/Siobhan-transform-your-gut-blog-header.png
315
560
Siobhan Robertson
https://thebalancedhealthhut.co.uk/wp-content/uploads/2019/12/Balanced-Health-Hut-website.png
Siobhan Robertson
2018-05-29 09:04:57
2018-05-29 19:29:43
Transform Your Gut To Feel Healthier On Holiday