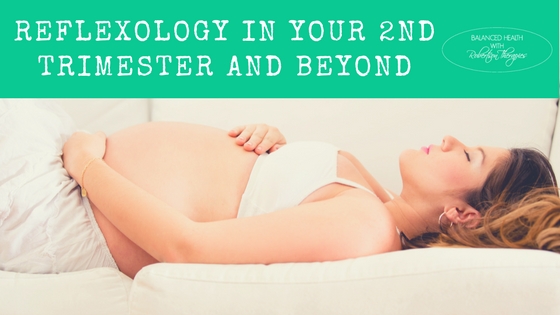 Weeks 13 – 27 of your pregnancy are a really special time and are referred to as your 2nd trimester.
This is often the time that you begin to enjoy your pregnancy more as morning sickness subsides, you have more energy and you start to feel those first flutters and kicks of your little one moving inside of you.
Many couples start to think about preparing for the birth at this stage – making decisions such as location, what antenatal or hypnobirthing classes to join and what their preferences are for pain relief.
Did you know that this is also the perfect time to think about reflexology?
Preparation is key to have a positive birth experience, remember your body knows what to do but every baby is different and getting your body into the optimum state for birth is really important. Regular reflexology treatments allow you time to bond with your baby and support the ongoing changes in your body.
Treatments are recommended every 2-3 weeks during your 2nd trimester to ensure your body is in its optimum state for the 3rd trimester and labour.
Reflexology works by relaxing the pelvic muscles in preparation for birth, helping drain the lymphatic system to clear congestion and reduce swelling and helps to maintain energy levels and metabolism.
Maternity reflexology may be beneficial for so many niggles and here are just a few of the ones my clients tell me have been helped by regular treatments:
Morning sickness/nausea
Headaches
Pain and discomfort
Stress and anxiety
Fatigue
Backache
Digestive problems/constipation
We focus your treatment on your needs depending on how many weeks you are.
As you enter the 3rd trimester you may notice that your pregnancy symptoms increase as your baby is growing more rapidly and your body is preparing for birth. At this stage we tend to schedule your treatments closer together in preparation for birth, reflexology may also help to…
Encourage your blood pressure to remain normal
Relax the pelvic and sacral areas
Reduce swelling
Reduce back and hip pain
Stimulate oxytocin and trigger the cervix to dilate in order to encourage labour
The sooner you start your reflexology treatments the more beneficial they are for you and your baby.
Get in touch to find out more about maternity reflexology and our packages that are offered from 16 weeks
Here Laura's  journey into parenthood
My husband and I were planning to start a family in January 2017 and I was researching into healthy pregnancies when i came across Siobhans website. It looked great and I eagerly looked at available appointments… there seemed to be only 1 left for the next 6 weeks.. So I booked it!!

Upon meeting Siobhan at my session she told me it was a cancellation that had literally been released seconds before, this session also worked with my cycle perfectly! It was meant to be!

The initial consultation was so informative as Siobhan suggested ways to help me get my body healthy and ready to carry a baby.. the treatment was very relaxing too.. we booked my next session for 2 weeks later, again to coincide with my cycle.  However, the 3rd session I had to cancel; i was pregnant!!!

I went back to Siobhan after 16 weeks where she was fantastic in guiding me through my pregnancy journey smoothly.  I looked forward to my fortnightly visits so much. I am positive it helped me have an enjoyable pregnancy as I remained active with no aches and pains throughout.

After week 36 I visited more regularly and was advised to take raspberry leaf tablets to help prepare my body for birth.  Although I was nervous I was also very excited about labour as reflexology and Siobhan had made me feel quite prepared.

At 39 weeks i went into labour and after 7 hours and just a few paracetomol I delivered my little boy George.  My midwives praised me for being so relaxed and calm throughout and I put that down to reflexology.

George is now 5 months old and I visit Siobhan every 3 weeks for post natal reflexology.

It may be just a coincidence but I'm sure I managed to book that 1st cancelled appointment for a reason!! I cannot thank Siobhan enough for her professionalism, knowledge and care towards me throughout.  I highly recommend her to anyone wanting to begin their journey into parenthood.

Laura xx
https://thebalancedhealthhut.co.uk/wp-content/uploads/2018/03/Reflexology-2nd-trimester-blog-header.jpg
315
560
Siobhan Robertson
https://thebalancedhealthhut.co.uk/wp-content/uploads/2019/12/Balanced-Health-Hut-website.png
Siobhan Robertson
2018-02-28 10:57:28
2018-04-03 09:12:23
Reflexology in your 2nd Trimester and beyond